Exeter plaque remembers World War One postal regiment deaths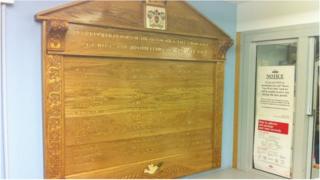 A plaque has been unveiled in Exeter remembering hundreds of postal workers who died fighting in World War One.
The original plaque was destroyed along with the Post Office building in the Blitz during World War Two.
The new plaque, made by local sculptor John Patterson, has been paid for by Devon County Council and the Union of Communication Workers (UCW).
More than 75,000 postal workers formed one of the biggest regiments in World War One, the Post Office Rifles.
Darren Rowbotham of the UCW said: "By the end of the war 1,800 men from the regiment had sadly passed away with another 4,500 seriously injured.
"As a local rep, I have played a big part in this tribute for the fallen postal staff and their families, and wanted to give something back to the community."