Exeter Cathedral appoints first female canon in 900 years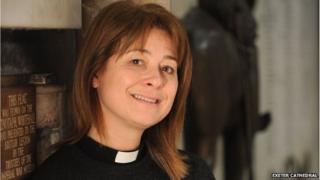 A woman has been appointed as a canon chancellor at Exeter Cathedral for the first time in its 900-year history.
Canon Anna Norman-Walker, a former nurse, told BBC News the Church of England was "on the move" over its position on female clergy.
In November, following intense debate, the church formally adopted legislation to allow female bishops by 2015.
Jonathan Draper, Dean of Exeter Cathedral, said the new canon brought "great gifts and energy".
'It's really inspiring'
Canon Norman-Walker said she planned to develop her work with young people and to help visitors understand more about the building.
"You just have to look around at the monuments and artefacts, it just speaks of the story of a city and the faith-life of thousands of people," she said.
"It's really inspiring to be part of that.
"The Church of England is on the move. We (women) are becoming part of the regular face of the church, rather than the unusual face."
Canon Norman-Walker has served in a variety of church roles, including as assistant rural dean for Cullompton and Tiverton.
She is married to Arthur, who is in the Army, and they have three teenage children.