Devon wild beavers bid backed by Chris Packham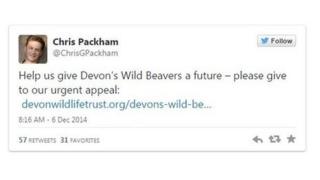 TV wildlife presenter Chris Packham has backed a campaigners' bid to protect a group of wild beavers in Devon.
He tweeted his support for the Devon Wildlife Trust's (DWT) attempt to raise £54,000 to keep the group of six on the River Otter.
The DWT has asked the government for a licence to allow the beavers to remain in the wild.
The government has indicated that the beavers could be tested near the river and released if disease-free.
Steve Hussey of DWT said: "We welcome Chris's support, he is a leading wildlife advocate.
"Beavers live alongside a lot of people in western Europe and we would like to see the impact they have in east Devon."
'Act quickly'
The DWT is more than half way to its fundraising target.
"If people want these beavers to stay in east Devon we need their support and we need it quite urgently," said Mr Hussey.
"Natural England could make a decision soon and we will need to act quickly.
"We are asking for a five-year licence to study the animals so it is a considerable project for a charity like us."
The beaver group includes three juveniles born this year, but concerns have been raised by the Department for Environment, Food and Rural Affairs that they may be carrying a disease which can be fatal to humans.
A wild population of more than 150 animals has established itself on the River Tay in Perthshire, in the east of Scotland, while a smaller official trial reintroduction project has been taking place in west Scotland over the past few years.