Devon bikers ride in protest of 'lenient sentence'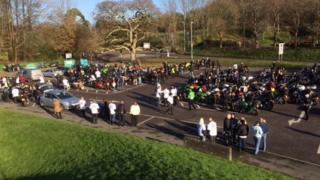 More than 100 bikers joined a rally in memory of a teenager killed by a driver they say was given a lenient sentence.
Greg Taylor, 19, from Buckfast, died at Tweenaway Cross, Paignton, when he was knocked off his motorbike in August 2013, by driver Niall Darvell.
During the ride, Bikers for Justice followed the route of Mr Taylor's last journey from Dartington to Paignton.
Darvell, 38, of Trelissick Road, Paignton, pleaded guilty to causing death by careless driving.
He was given two sentences of six months suspended for two years at Exeter Crown Court in October.
Peter Bourne, from Bikers For Justice, said the memorial ride, dubbed "RIP British Justice", was to highlight a lack of justice for bikers killed by car drivers.
He said: "[Darvell] should have got a lot more, he did kill a 19-year-old lad who was on his way home from work, the judge did say the car was not roadworthy.
"To get a six month suspended sentence when you compare that to some of the other court cases you read about in the papers is pretty poor."
In May, Justice Secretary Chris Grayling announced a review of driving offences and penalties after concerns raised by victims' families.
At the time, Justice Minister Mike Penning, said: "Driving offences can have very serious and sometimes devastating consequences for victims and their families.
"That is why we are looking closely at the law in this area and have announced a review of driving offences and penalties."