Exeter mother wins £3m on the National Lottery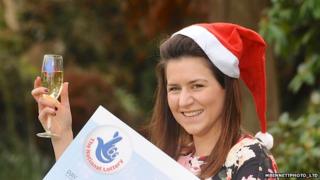 A young mother from Exeter has won more than £3m on the National Lottery.
Jenn Burston said she was "gobsmacked" after winning £3,062,272 in the Lotto quadruple rollover draw on Wednesday.
The 27-year-old said she and her husband were now planning a holiday and intend to move out of their three-bedroom semi-detached house.
The mother of two has already been back to work as a part-time administrator because she did not want to "let people down".
She initially thought she had won £3,000.
She said: "Once we realised it was £3m neither of us knew what to do next."
'The knack'
Mrs Burston returned to work one month ago after her maternity leave. Her husband Ian, 30, is a service engineer.
"I keep asking myself, just how do you spend that sort of money? I'm sure with £3m in the bank, the knack will come for us," she said.
Mrs Burston won the money after matching five numbers and the bonus ball when she played Lucky Dip online.
Lotto can only roll over four times. As nobody matched all six numbers in the draw on 17 December, the prize money was shared between the five winners in the next winning prize level.