Man dies in Plymouth flat fire on New Year's Day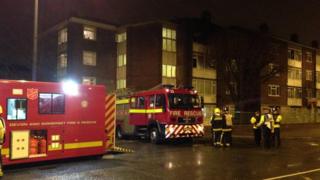 A man died when fire broke out at a block of flats in Plymouth.
The blaze broke out in a fourth floor flat at the building on Union Street just before 02:00 GMT.
Three people were rescued from a flat on the fourth floor and 35 others were evacuated from the building. The cause is under investigation.
Tom Costello, who lives in the flat below, said: "I have never seen a fire like it in my life, you could hear screams and it just wasn't pleasant."
He added: "I have just been allowed back into my flat to look at the damage and thankfully it isn't too bad, there is minimal water damage but it is nothing after what happened."
About 35 firefighters tackled the blaze, alongside paramedics who treated four people at the scene,
Police and firefighters broke down doors to wake residents, who were taken to a nearby pub for safety.
An area from The Octagon to Stonehouse Bridge has been cordoned off.