Plymouth's Derriford Hospital bans Pizza Hut deliveries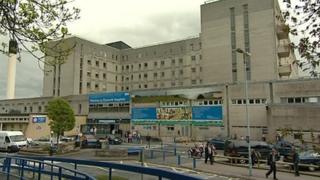 A Plymouth hospital has banned deliveries from a nearby branch of Pizza Hut.
The outlet is in a retail unit in a multi-storey car park adjacent to Derriford Hospital.
Plymouth Hospitals NHS Trust said delivery of takeaway food was "not encouraged" and it had agreed with Pizza Hut that deliveries to the hospital would "not be allowed".
Pizza Hut has yet to respond to a request for a comment.
News of the ban was recently included in the hospital's weekly staff newsletter, Vital Signs.
An article said the trust was committed to improving healthy eating.
"The trust maintains its commitment to improving healthy eating options for staff, patients and visitors," the article said.
"As part of our work around food hygiene and the control of visitors into clinical areas, delivery of 'takeaway' food is not encouraged."
Wharfside Regeneration (Devon) Ltd acquired the 16-acre site which houses the car park from the trust in April 2006, and leased it back to the trust for 15 years.
The trust says it has no say on who leases the retail units.