Devon lollipop crossings face cut in funding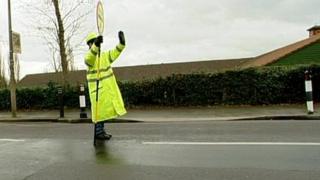 Funding for lollipop men and women as well as bus services could be cut under savings by Devon County Council.
The Conservative-controlled council said there was a reduction in its budget of about £50m for 2015-16.
It plans to save £100,000 a year for the next two years in the school crossing budget and £1.7m by capping bus subsidies.
The proposals are due to be discussed by the council's cabinet on 14 January before going to public consultation.
A report to the cabinet said if a school crossing site did not meet new criteria on usage, environment and safety, the cost would be passed on to the school.
Conservative councillor Stuart Hughes, responsible for highway management, said it would be assessed on a school by school basis and in some cases would involve the loss of the crossing.
He said: "This isn't a statutory service but we are keen for crossing patrols to continue, working in partnership with schools and communities.
"Devon County Council no longer has the funds to support all of the existing patrols. If the remaining costs cannot be found locally then it may result in the loss of patrols that don't meet the criteria."
Of Devon's 116 school crossing patrols, 16 are currently funded by schools or rely on volunteers.
The council also plans to reduce subsidies for bus services, saying that in some cases trips are subsidised by nearly £20 per passenger.
Mr Hughes said the council planned to introduce a cap on the subsidy available for each journey but the level of the cap had not been decided.
He said that despite the cuts no communities currently served by a bus would be entirely cut off.
Instead services that operate on a daily basis may be reduced to two or three days a week with similar reductions for less frequent services.