Devon and Cornwall Police may lose 140 officers, BBC learns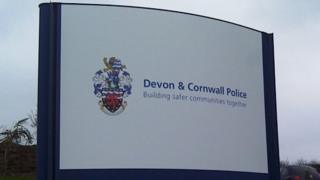 Senior sources within Devon and Cornwall Police have told the BBC of plans to lose 140 police officers in the latest round of budget cuts.
It means that the force's total strength would fall below the touchstone 3,000 figure.
Police Community Support Officers (PCSOs) are also likely to be reduced by half, from 360 to 180.
A Devon and Cornwall Police spokesman said "no decision has been made" on specific reductions.
'Less neighbourhood policing'
Devon and Cornwall Police has £9m less to spend next year following a Home Office announcement on funding, the force's Police and Crime Commissioner (PCC), Tony Hogg, said last month.
This would be the first fall in PCSO strength in Devon and Cornwall since the beginning of the government's austerity cuts.
It means the total number of police officers in Devon and Cornwall would be likely to fall to about 2,900.
Chief Constable Shaun Sawyer said: "The force needs to make £29m of savings over the next four years, having already saved over £50m.
"The BBC is right to identify that to fill such a funding gap it will be necessary to see a further sizable reduction in police staff and officer numbers.
"These are likely to be significant, being mindful that we've already reduced by nearly 1,000 people along with further reductions in our capital budget.
"However, it is important to point out that at this time no decision has been made on what the specific reductions will be."
---
UK terrorism threat levels
Critical
Severe (current level)
Substantial
Moderate
Low
Source: MI5
---
A senior officer in the force told the BBC that emergency response times would increase, and there would be less neighbourhood policing.
The possibility of cuts was also criticised by Nigel Rabbitts, of the Devon and Cornwall Police Federation, which represents rank and file officers up to the level of chief inspector.
He said: "The real concern is that actually the demand on the police service is not reducing. Therefore, if you reduce officer numbers, it will have an impact from protecting the public from harm.
"It also comes with a backdrop where we have had a state of security [UK terrorism threat level] at its highest for a very long time.
"It doesn't make any strategic sense to reduce police officers when the threat is so high."
A spokesman for PCC Tony Hogg said: "The commissioner will shortly ask his scrutiny body, the police and crime panel, to agree a 1.99% rise in the council tax policing precept to uphold officer numbers.
"Millions of pounds of extra savings will need to be made. No decisions have been made yet about where these will be, although, regrettably, police officer and staff numbers will inevitably reduce."