Devon and Cornwall Police could lose 800 staff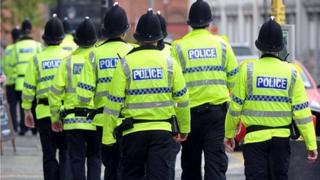 Nearly 800 jobs, about a fifth of the workforce, could be axed by Devon and Cornwall Police under plans being considered by senior officers.
A report by Police and Crime Commissioner (PCC) Tony Hogg, proposes losing 40 officers by the end of 2019.
Sixty police staff could go, with another 280 staff jobs removed by sharing functions with Dorset.
Another 412 staff jobs could also go, making a total of 792 jobs lost over the next four years.
The force is aiming to cut its budget by £44m by 2019 amid government pressure to rein in spending.
'Worst case'
But Mr Hogg's report to the police and crime panel says that the cuts could be eased by increases in council tax funding.
Government funding dropped from £201.7m in 2013/14 to £193.6m in 2014/15.
But the Devon and Cornwall force is hoping to get a 1.99% increase in its share of council tax in 2014/15next year, partially offsetting the fall in government funding.
A PCC spokesman said: "The number of cuts are a worst-case scenario.
"If people decide they want to protect the force they may have to dig deeper into their pockets.
"But there are going to be some tough decisions in the future and every penny has to count, especially with increased demands on the force in areas such as child sexual exploitation and cyber crime."
Nigel Rabbitts of Devon and Cornwall Police Federation which represents officers, said consultations were ongoing about the number of staff jobs which may be cut.
"It may be hypothetical, but the public need to start thinking about how they are going to react to a reduction in the service and whether they are going to have to pay more," he said.
"If central government is not going to pay then the only way is local taxation so there is a toughening up all round."