Plymouth train mum Sammie Welch given good manners note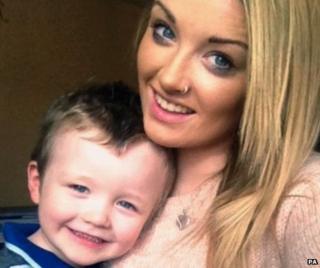 A young mother is hoping to find a stranger on a train who left her a handwritten note calling her a "credit to her generation".
Sammie Welch, 23, from Plymouth, was travelling with her son Rylan, three, when a man handed her a note as he got off at Bristol.
The passenger wrote "Have a drink on me" and left her a £5 note after being impressed with her son's manners.
Ms Welch said: "I want to thank him personally."
The note, in capital letters, read: "Have a drink on me. You are a credit to your generation, polite and teaching the little boy good manners.
"PS I have a daughter your age, someone did the same for her once. Hope when she has children she is as good a mother as you.
"Have a lovely evening."
Ms Welch said she "wanted to cry" at the anonymous benefactor's generosity.
She said: "I never had the chance to thank him as he got off and I couldn't move due to my son being asleep on me and a man sat next to me."
She has appealed on Facebook for people to get in touch with the man.
She said: "He shows there are still good people out there and I want him to know I am truly grateful."