Plymouth's Derriford Hospital facing 'worst A&E pressure yet'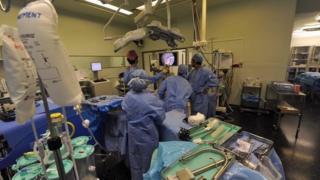 Devon's biggest hospital is facing "unprecedented and worrying" pressure on its accident and emergency department, say managers.
In December, Derriford Hospital, in Plymouth, 87% of patients were seen within four hours of being admitted to A&E, instead of the 95% target rate.
Just over 92% of patients were seen within four hours during the last financial year, said a report.
The hospital has been fined £3.3m because of delays and cancelled ops.
The report to the board also said pressure, as a result of growing patient numbers, was affecting other areas of the hospital, with a "significant increase" in surgery cancellations since last year.
The lack of available beds was the main reason for cancellations.
Waiting times for cancer patients had also deteriorated over the last two months and staff training and appraisals were also being affected.
"Clearly, the current pressures cannot be sustained without having a further detrimental impact on our patients and staff," it said.
"We continue to face significant challenges in maintaining established staffing levels in some service areas."
It also said: "Staff have responded with their usual commitment and dedication to providing the best possible care whilst patients have been tremendously understanding about the challenges we are facing."
The hospital faces an inspection by watchdogs the Care Quality Commission between April and June.