Exmoor ponies in Czech Republic for grassland restoration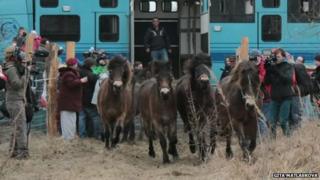 Fourteen Exmoor ponies have arrived at a national park in the Czech Republic in a bid to help restore rare grassland habitat.
The animals have been released into a former military training base in Milovic Nymburk, about 20 miles (32km) from Prague.
Experts hope they will eat the scrub which has taken over the site, and allow smaller plants to thrive.
A stallion is expected to join the mares in April.
The animals were sourced from across the UK by the Moorland Mousie Trust, a charity set up to promote and protect the Exmoor pony breed.
Juliet Rogers, from the trust, said: "This is a wonderful opportunity to increase the profile of the Exmoor pony, which is a versatile and hardy pony with a well deserved reputation as a conservation grazing pony."