'Exercise Tiger D-Day rehearsal' WW2 shell destroyed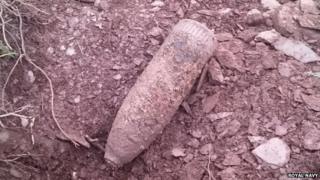 A World War 2 shell believed to have been fired during a disastrous D-Day rehearsal exercise off Devon has been destroyed.
The 21in-long, 6in-wide (53cm long, 15cm wide) shell was uncovered on a coastal path at Strete, Dartmouth, the Royal Navy said.
The shell was destroyed where it was found in a controlled explosion by a disposal team from Plymouth.
Hundreds of US servicemen died off the coast during Exercise Tiger in 1944.
'Potentially hazardous'
Lt Cdr Peter Davis, of the Royal Navy, said: "The shell was uncovered during work on the footpath and rightly reported to police who requested naval help and we were tasked to attend.
"Such was the age and condition of the shell and its fuse that it was considered it was potentially hazardous to the pubic to remain and to move, so we disposed of it in-situ in a controlled manner.''
A total of 749 servicemen died when convoys training for the D-Day landings were attacked by German torpedo boats at Slapton Sands on 28 April 1944.
Eight US landing ship tanks packed with servicemen were attacked by E-boats.
Hundreds of soldiers wearing heavy equipment and sailors drowned or froze to death in the water.
The exercise and its tragic outcome were kept secret during the war because of fears would damage morale. The truth was revealed in the 1970s.