UKIP sorry for PC Ali Hassan death 'karma' tweet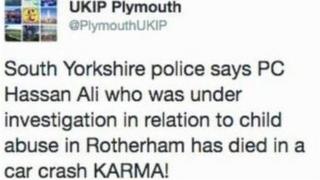 UKIP has apologised for a tweet which said the death of a police officer under investigation in relation to the Rotherham abuse scandal was "karma".
The tweet from @PlymouthUKIP said: "South Yorkshire police says PC Hassan Ali who was under investigation in relation to child abuse in Rotherham has died in a car crash KARMA!"
PC Ali, 44, died in hospital nine days after he was hit by a car in Sheffield.
A UKIP spokesman said the tweeter had been rebuked.
Mr Ali was being investigated by the Independent Police Complaints Commission (IPCC) over allegations made about him, the BBC understands.
South Yorkshire Police said his death was being treated as a "tragic accident". Officers are continuing to investigate the collision.
A UKIP spokesman said the karma tweet was deleted "rapidly" after it appeared on Friday.
The twitter account @PlymouthUKIP has also been deleted.
"It does not reflect what the party thinks," he said.
"We believe in justice and innocence until proven guilty."
The spokesman said that the tweet was down to a party volunteer's "freewheeling amateur past".
"We can understand there is a great deal of anger about the investigation but it is not appropriate to vent it in that way," he added.
Comments on twitter included from @AndrewReverand: "The #ukip #karma comment demonstrates yet again just how little class and integrity this party contains."
@ThomasevansUKIP tweeted: "What on Earth were you thinking with that tweet earlier?"
A report published in August 2014 said about 1,400 children were abused by gangs of men, mainly of Pakistani origin, from 1997 to 2013 in Rotherham.
In September, the IPCC said it was investigating 10 South Yorkshire Police officers referred to the watchdog by the force over the handling of child sexual exploitation in the town.
The latest report in the wake of the scandal branded the council "not fit for purpose" and it will be taken over by government commissioners.