Dartmoor capsized kayaker rescued by helicopter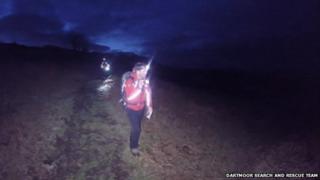 A kayaker has been airlifted from Dartmoor after he capsized and suffered head injuries.
The man was winched aboard an RAF Sea King helicopter from the Upper Dart, a section of the River Dart.
The man, who was part of a group of kayakers, capsized in shallow water and hit his head on the bottom of the river, said kayaker Adam Vaughan.
Emergency services were alerted at about 16:30 GMT on Saturday, and the man was taken to Derriford Hospital.
A spokesman for Dartmoor Search and Rescue Team said: "The team received conflicting information about the rest of the party and their intentions but located all the remaining kayakers and assisted them for the last leg of their walk out of the Dart Valley."
The river and its rapids are popular with kayakers and canoeists.