Wife attack drink-drive vicar David Davies banned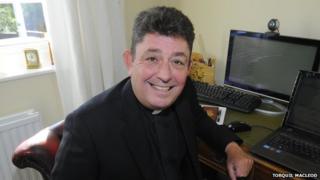 A vicar convicted of assaulting his wife and drinking and driving has been ordered to carry out community service.
Reverend David Davies, 50, had assaulted his wife by grabbing her hair and pulling her to the ground, Torquay Magistrates' Court heard.
The former Army chaplain was two and a half times over the drink drive limit when he was arrested in November 2014.
Davies was banned from driving for two years and ordered to carry out 120 hours of unpaid work over 12 months.
He was previously relieved of his duties as the parish priest in Cockington, Devon.
Clive Cohen, acting archdeacon of Totnes, said: "David had a long career as an army chaplain, serving in some very challenging situations, before he came to Devon in 2013.
"We pray for healing for David and his family, and for his parishes.
"Now the court case has concluded, the diocese will conduct its own internal process, which will include looking at David's future ministry."