Burst water main closes Plymouth Sainsbury's supermarket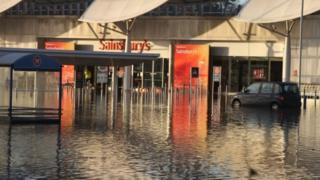 A supermarket was forced to close for a number of hours after thousands of gallons of water from a burst main swamped its car park.
Police and fire crews from across the city were called to attend Sainsbury's at Marsh Mills, Plymouth.
Store workers used bags of cat litter to try to stop the flood-water from entering the supermarket.
Devon and Somerset Fire and Rescue Service said there was no damage to the store which has since reopened.
The water has been pumped from the car park but that area remains closed.
The Environment Agency said initial fears of sewage in the water had been dismissed.
About 35 firefighters attended the scene with the emergency services first called to the site at about 06:05 GMT.
Paul Bray, from Devon and Somerset Fire and Rescue Service, said: "Teams are still moving debris and silt from the car park.
"At its peak the water was about half a metre deep.
"It would have taken a while to get sand bags there so using the cat litter bags was a good bit of improvisation to be honest."
South West Water said its contractors had isolated the burst and were working to complete the emergency repairs.
"A small number of customers' water supply were initially affected in the Crownhill and Efford areas of Plymouth, however supplies have now been restored and South West Water would like to apologise to those customers who may now be experiencing discolouration to their water supply," it said.