WW2 Exercise Tiger rocket found on Devon coastal path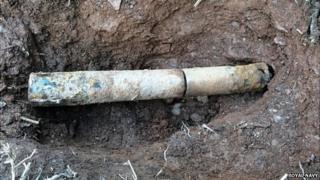 A World War Two rocket used in Exercise Tiger to prepare troops for the Normandy Landings has been found on a coastal path in Devon.
The 40-inch (1m) long rocket was discovered at Strete near Dartmouth on Wednesday by contractors working on the path.
Petty Officer Darren Carvel said: "The rocket was still intact and a hazard to the public despite its age."
The rocket has since been detonated in a controlled explosion.