Mitie hospital contract: 'Service failures' in Cornwall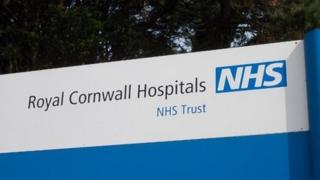 A private firm hired to provide cleaning and catering at a Cornish hospital has repeatedly failed to meet the required standards.
The Royal Cornwall Hospitals Trust employed Mitie to provide "hotel services" in October 2014.
The company failed to meet required standards 85 times in January with two incidents classed as 'critical', according to figures seen by the BBC.
The trust said it will continue to work with the firm to resolve the issues.
Financial penalty
Neither the trust nor Mitie would comment on whether the 85 'service failures' would lead to any financial penalty.
The figures released to the BBC following a Freedom of Information request showed 15 minor events, 64 medium, four major and two critical.
Examples of 'service failures' are if a ward is not cleaned to a satisfactory standard or if a cleaner fails to respond to a request to clean a spillage.
According to the contract between Mitie and the trust, seen by the BBC, 'service failures' accrue a certain number of points which can lead to financial penalties.
When asked if any financial penalty had been invoked, Mitie said it was for the trust to comment.
The trust declined to provide any further details.