Mal Peet: Exmouth children's author dies aged 67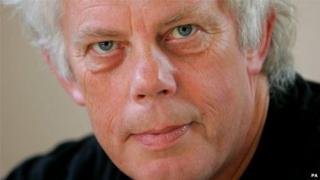 Award-winning children's author Mal Peet has died, aged 67.
The writer, who won the Carnegie Medal in 2006 for his historical novel Tamar, died on Monday, several months after being diagnosed with cancer.
Norfolk-born Peet was a teacher before turning to writing in the face of what he called "his old enemy, boredom".
Peet, who lived in Exmouth, wrote novels for teenagers and adults and a series of children's books co-authored with his wife Elspeth Graham.
Speaking to The Guardian in 2009, he said the couple's literary career had initially been "a dismal failure".
"We decided we could write a book together. She decided she knew what people wanted to publish, and we'd write it together and I'd draw it."
They "starved for four years" and ended up working for educational publishers, he said. "I wouldn't say we prospered, but we paid the mortgage and ate."
Eventually, in his 50s, Peet decided to write his first full-length novel.
Keeper, which took football to the South American rainforest, won a Nestle Children's Book Award.
It was the first of three stories featuring South American sports journalist Paul Faustino. The final book, Exposure, won the Guardian children's fiction prize in 2009.
Tamar, which won the Carnegie medal, was set in the final winter of World War Two and followed two young Dutchmen who are trained in England by the Special Operations Executive (SOE).
One is charged with co-ordinating local resistance groups, while the other maintains covert communications with London.
Peet said the novel had been inspired by Paul Peters, the father of a close friend, who had himself been a SOE agent in Holland during the war.
Last year the author published his first adult novel, The Murdstone Trilogy, an exuberant satire of the publishing industry.
It tells the story of a children's author who is reluctantly forced to reinvent himself as a fantasy writer - "Tolkien with knobs on" - at the behest of his agent, who says it will be "a money-spinner".
The author told Radio 4's Open Book the novel was "not autobiographical", although he admitted it was "a splenetic outpouring of bitter envy".
'Utterly tragic'
Mal Peet's agent, Peter Cox, described him as "a writer's writer".
"Mal was universally adored and admired by other writers," he said. "His talent was as prodigious as his warm, wide-open heart.
"I have lost a dear friend, and we have all lost an author of exceptional genius. His best and most exciting years were still ahead - his premature death is utterly tragic."
Peet is survived by his wife, his children Tom, Lauren and Charlie, and his grandchildren Grace and Ezra.