Man spends £10K on search for kitten killer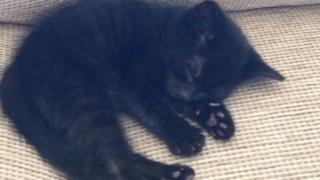 A businessman spent £10,000 hiring a private detective to find the killer of his daughter's kitten.
Neil Tregarthen, from Truro, Cornwall, said he was prompted to hire the detective after Devon and Cornwall Police "failed to investigate".
The kitten belonged to student Aylish Tregarthen and was shot with an air rifle near her Exeter home in September.
Devon and Cornwall Police said it had investigated the crime "fully".
Mr Tregarthen said the kitten, called Farah, managed to crawl back to the house but died despite extensive treatment by a vet.
He said the private detectives carried out a six-week investigation and gathered a file of evidence and found a prime suspect, but the police refused to bring a prosecution.
"They were totally impotent to do anything to help us, or more importantly wider society," he said.
'Obvious sociopath'
He believes cuts to police budgets have left officers unable to investigate all but the most serious crimes.
Exeter firm Focus Investigations, which led the hunt for the culprit, told Mr Tregarthen the person responsible had an "obvious sociopathic nature."
"We found a witness who claimed that he had witnessed our main suspect shooting another cat and who stated that he was willing to give a statement to this effect."
Devon and Cornwall Police Neighbourhood Beat Manager Steve Parsons, said: "We investigated this crime fully.
"As for the investigation report, I have examined this and it is packed with rumour and speculation, not evidence.
"I am confident that we have done everything possible in investigating this case."
Mr Tregarthen rejected the claims and said: "Telling me there is nothing they can do to investigate, or even address, the horrific way Farah died is just not good enough.
"Using an air rifle to shoot cats is illegal, and it should be treated as such."
Addressing the claims about police budget cuts, the Home Office said: "Police reform is working and crime has fallen.
"There is no question the police will still have the resources to do their important work, while making their contribution to reducing the deficit."