Westlands School pupil treated for tuberculosis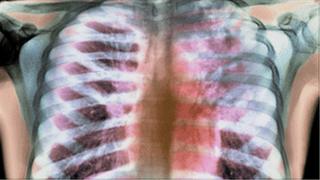 A Devon secondary school pupil has been diagnosed with tuberculosis.
Public Health England (PHE) said the unnamed pupil at Westlands School in Torquay was receiving treatment and "recovering well."
TB is a bacterial infection which usually affects the lungs. It is passed on through coughs and sneezes among people who have been in close contact for some time.
PHE is offering TB screening to pupils and staff.
'Most at risk'
Dr Femi Oshin, consultant in communicable disease control for PHE South West said: "First and foremost, it is important to stress that TB is difficult to catch.
"The people who are most at risk are those living in the same household.
"Even though the risk is low, as a precaution at this stage we want to ensure that pupils and staff who have had close prolonged contact and potentially spent the most time with the case do not have the infection.
"If we find any cases following the screening they will be referred to a chest physician for further investigation and treatment."
Alex Newton, principal at Westlands School added: "The health and safety of all our students and staff is of utmost importance to us.
"We have been working closely with Public Health England to identify and screen students and staff who could possibly be at risk.
"Our thoughts are with the student affected and we wish for a speedy recovery."