Lundy church gets £75K to start revamp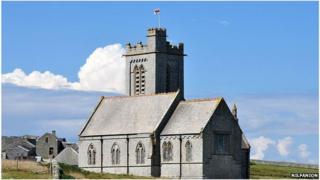 A church on the tiny island of Lundy off north Devon has been given a £75,000 lottery grant to create a wet-weather learning centre for schools.
The cash will kick-start a project to revamp the interior of St Helen's Church.
Fund-raisers have until the autumn to raise another £400,000 which will unlock £860,000 of Heritage Lottery funding to complete it.
The project was inspired by the lack of wet-weather facilities on the island.
---
Lundy
Lies 12 miles (19 km) off the coast of Devon, England
The island has been inhabited for at least 3,000 years
The name is believed to come from the old Norse word for "puffin island" (Lundey)
From the 13th Century for 600 years the island was a base for pirates and smugglers
In 2007, Lundy had a population of 28 people, including volunteers
The Marisco Tavern is Lundy's only pub
---
The initial grant will pay for an architect to draw up plans which will be presented to the Heritage Lottery Fund for approval.
St Helen's Church is 120 years old but the site has had a place of worship on it for 1,300 years according to local historians.
It was designed by the notable Gothic revivalist architect, John Norton, most famous for his work at Tyntesfield near Bristol.
St Helen's will continue as a place of worship but will also provide wet-weather educational facilities for the schools that come to visit Lundy's natural environment.
The island is owned by the National Trust but financed, administered and managed by The Landmark Trust.
Derek Green, Lundy's general manager, said: "We get lots of schools coming to Lundy to enjoy the wildlife and way of life but if the weather is wet we will have somewhere to take a class."
The Rev Shirley Henderson said: "I have to confess to giving a whoop of joy when I heard this news.
"It's a new beginning, a wonderful opportunity."