Alex Peguero Sosa death: Murder accused thought boy had knife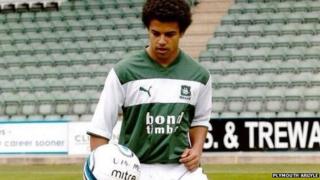 A man accused of stabbing a teenage footballer in the neck with a broken bottle has told a court he had "no option" but to defend himself.
Lee Dent, 42, said he thought Alex Peguero Sosa, 17, had a knife before the late-night attack at a taxi rank in Kingsbridge, Devon.
He also told Plymouth Crown Court he did not know he had a bottle in his hand before striking Mr Peguero Sosa.
Mr Dent, from East Portlemouth, Devon, denies murdering Mr Peguero Sosa.
The former Plymouth Argyle youth squad player from Aveton Gifford, near Kingsbridge, was killed in the early hours of 6 July last year.
Mr Dent and Mr Peguero Sosa had been out socialising with friends before the attack in which Mr Dent stabbed Mr Peguero Sosa in the neck, the court heard.
Mr Dent told the court: "I thought he had a knife. He said he was going to stab me up."
Martin Meeke, defending, asked him if he had seen a knife and Mr Dent said he saw a "glint".
"He put me a position where I had no option but to defend myself," he said.
He also said that he had been more drunk than ever before.
The trial continues.