Firms to get tax breaks at Plymouth naval yard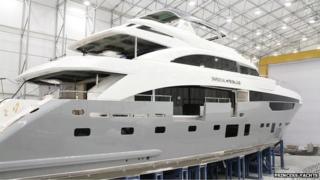 A former Royal Navy yard in Plymouth will become an enterprise zone in an attempt to lure private firms.
South Yard in Devonport was confirmed as a new site in Chancellor George Osborne's budget on Wednesday.
South Yard's status means companies will be able to take advantage of tax breaks and relaxed planning.
The bid was made by enterprise body Heart of the South West Local Economic Partnership (LEP).
---
South Yard
Building work started in 1691
A total of 230 warships were built at South Yard between 1714 and 1968
The last warship to be built there was HMS Scylla
---
South Yard, which dates back to the 17th Century, is still owned by the Ministry of Defence and is being released to Plymouth City Council in phases. The first handover of eight hectares of land is taking place this month.
The city council is getting £21m of public funding to kick-start the development of South Yard through the Plymouth and South West Peninsula City Deal, which was signed in January 2014.
The council hopes that marine businesses attracted by South Yard's deep water docks and jetties will bring in £59m of private investment and create more than 1,100 new jobs.
Luxury boat maker Princess Yachts, which employs nearly 2,000 people in Plymouth, is spending £35m on the South Yard where it will make vessels of more than 100ft (30m).
There are 24 enterprise zones across the UK with incentives such as reduced business rates, government grants to install superfast broadband, tax relief for investments in equipment and access to a £100m capital grant fund.
One has been operating at Newquay Airport in Cornwall since 2011 which attracted helicopter giant Agusta Westland and has become a test site for the Bloodhound land speed record attempt car.