Torrington Hospital: Councillors call for beds to be reinstated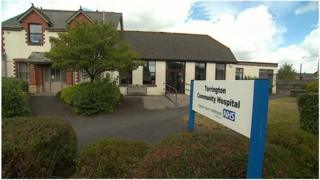 A community hospital closed down by health bosses should be reopened, according to councillors.
The Northern, Eastern and Western Devon Clinical Commissioning Group (New Devon CCG) closed 10 inpatient beds at Torrington Community Hospital in 2014.
The CCG based the closure on a six-month pilot community care scheme which it said had been a success.
But a group of Devon County Council members has said the evidence was flawed and wants the decision reversed.
A report compiled by a cross-party group of councillors and headed by Conservative Councillor Andrew Boyd states: "The information published by the CCG has been overwhelming, confusing, ambiguous, and not all entirely relevant.
"It is difficult to understand how such statements have given credence to the decision of the CCG to continue with the model. Many of them are no more than projections based on supposition."
'Desist in plans'
The report, which was commissioned by Devon County Council's Health and Scrutiny Board, said there was no assessment of the "quality, satisfaction, success" of the service before the pilot, from September 2013 to February 2014, and that made it impossible to make effective comparisons with the new community care scheme.
It said there were "a number of anomalies" regarding the CCG analysis of costs, and questioned the CCG's claim to save £250,000 a year under the new system.
The report, to be considered at the council's health and wellbeing scrutiny committee on 24 March, recommends the CCG "desist in their plans to replicate the Torrington experiment across the county" and reinstates inpatient services at Torrington while a full review is carried out.
A spokesman for New Devon CCG said: "We have seen Councillor Boyd's report and are taking time to properly understand it before responding."