Devon paramedic used bogus licence to drive ambulance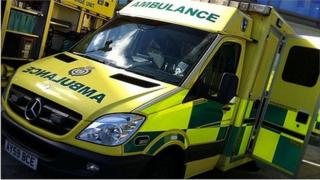 A paramedic who was allowed to drive ambulances for four years with a bogus licence has admitted forgery.
Edward Crowley, 41, of Doyle Street, Waterford, Ireland, used the forged document to get a job with Devon's ambulance service.
He admitted possessing a false identity document and using it to try to obtain a UK driving licence.
The judge at Exeter Crown Court said it was an "exceptional case" and he was given a two-year conditional discharge.
Crowley had paid someone in Ireland to upgrade his normal licence to allow him to drive an ambulance, the court heard.
Armed police arrest
He spent four years treating and transporting patients in Exmouth, Devon, before managers at South Western Ambulance Service asked him to convert his Irish licence into a UK one.
Crowley was sacked after he sent the forged document to the DVLA in Swansea, where it was found to be bogus, the court heard.
The court heard his driving record had been "impeccable", and he had been commended for his courage after being attacked by a drunken patient in 2008.
David Bowen, prosecuting, said "there was not a single complaint about his driving in four years."
Mr Bowen said Crowley had taken an ambulance driving test which had shown him to be competent behind the wheel.
Vanessa Francis, defending, said Crowley had a valid Irish licence for driving cars and had naively believed it could be adapted to include ambulances if he paid a fee to someone in Ireland.
Crowley was arrested by armed police after he arrived in Britain from a trip to the USA and was held in custody for seven days before relations in Ireland raised a surety to secure bail.