Plymouth named for Atlantic race start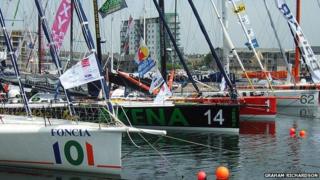 Up to 200,000 people are expected to visit Plymouth for the revival of the Transat solo professional yacht race in May 2016.
Some of the best sailors from around the world will be racing to America in the fleet of at least 30 boats.
The race, normally held every four years, always embarks from Plymouth. Next year's event will be the first since 2008.
The 2012 race was deferred because of a clash with another event.
The 1960 event, believed to be the first single-handed ocean yacht race, involved five sailors and was won by Sir Francis Chichester who took 40 days to make the crossing to New York.
The last race in 2008 to Boston took winner Loick Peyron 12 days.
Organisers said they were expecting 150-200,000 people for the 2016 event which is expected to bring in £2.5m to the local economy.
Next year's destination city has not yet been named.