Radio Devon presenter Tony Beard in bladder cancer fight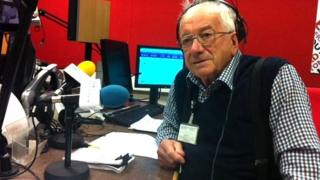 Long-serving BBC Radio Devon presenter Tony Beard has announced that he has been diagnosed with bladder cancer.
Former Dartmoor farmer Mr Beard, 79, who has been a presenter for about 35 years, told listeners to his Sunday show: "I am determined to beat it."
He also thanked well-wishers for their messages of support.
Radio Devon said Mr Beard, one of the station's "best-loved presenters", and his family would be supported "through this difficult time".
Mr Beard, known to listeners as the "Wag from Widecombe", returned to the show on Sunday after a three-week sickness absence.
He said: "I am a very positive-looking person.
"I may miss the odd week and thank you to so many people for their get-well cards."