WW2 survivor united with German E-boat from secret operation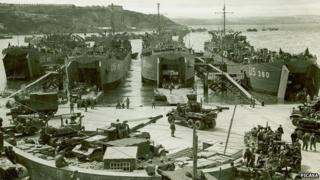 A survivor of a World War Two exercise in which 800 people died when German E-boats helped sink two ships, has visited one of the boats that helped destroy the vessels.
On 28 April 1944, four E-boats opened fire on a convoy of eight US ships during an exercise off the Devon coast.
Codenamed Exercise Tiger, it was a practice for the Normandy D-Day landings.
Survivor John Casner visited one of the E-boats, which is being restored to honour the dead.
He said: "I had a ring-side seat to the trouble this boat caused. I was only 17 years old. At the time we knew it was a torpedo boat but we had no idea how long or big they were."
Mr Casner, 88, from Summerville, South Carolina, added: "This is really big. If all the nine E-boats that were out that day hit us, I wouldn't be here talking about it.
"I have no animosity to the men who were on this boat. They were sailors too, just doing their job."
Entrepreneur Kevin Wheatcroft bought the craft - the last surviving German Schnellboot S-130 - for £1 in 2009 and plans to restore it back to its 1943 configuration and performance.
Mr Wheatcroft said: "I felt so emotional hearing John's story, it reminded me why I am doing this.
"For veterans like John and the stories that are attached to this boat, we absolutely have to get it back on the water. We need these stories to stay alive."
---
John Casner - US Navy LST 499
"On the afternoon of April 27, 1944, LST 499 left to meet the other LSTs in Lyme Bay and form a convoy.
"I saw the wake of two torpedoes that went under the bow of our ship and we took evasive action.
"That was the first time I had ever seen a ship hit and explode. I will never forget it.
"That was when we realised it must be very fast surface boats that were firing at the convoy. At the time, our captain believed all of this was part of our dress rehearsal manoeuvres and not an enemy attack, so he did not give the order to return enemy fire.
"By the time the crew made it to their battle stations, the E-boats were already gone.
"After we arrived safely we were told not to speak about what happened, or we would be subject to a court martial.
"They did not want the Germans to find out how much damage had been done or about the future plans for D-Day."
---
The visit coincides with the release of new sonar images of the two American ships that were sunk.
The research project, led by engineering company Hydroid and the Royal Navy, aims to "shed light on the tragic event".
Both vessels were found about 50m (164ft) below the surface.