Exeter bomb scare: Police investigating hoax device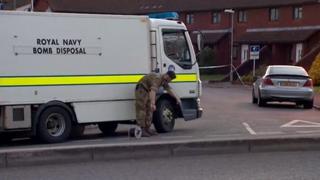 Police are investigating a hoax device that forced the evacuation of 20 homes after it was found in a garden.
Devon and Cornwall Police were called to Bramley Avenue in Exeter after a member of the public reported the item.
Police said investigations to find the person who created the device were continuing.
The Royal Navy Bomb Disposal Unit was dispatched on Tuesday evening and residents were away from their homes for about five hours.
Insp Ian Dawson, from Devon and Cornwall Police, said the device was "not viable and not dangerous".
He said: "The question remains as to why someone would construct it and why it was there in the first place."