Rowers leave New York for Atlantic record bid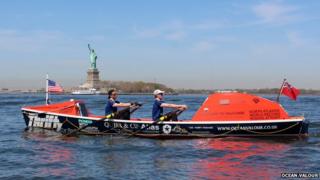 Two men have begun a bid to be the fastest and youngest double crew to row 3,800 miles from New York to the UK.
Tom Rainey and Lawrence Walters, both 23, are rowing the 23ft (7m) boat Yves, to Salcombe, Devon, with the aim of beating a 119-year-old record.
Team Ocean Valour aims to raise money in memory of Mr Rainey's father Luke, who died from a brain tumour in 2012.
The pair reported on their blog after the first day that "despite being knackered spirits are high".
The current record of 55 days and 13 hours was set in 1896, by Norwegians George Harbo and Frank Samuelsen.
Mr Rainey said the Brain Tumour Charity had helped his family after his father died.
"It was a port in what would otherwise have been an unweatherable storm," he said.
Oil industry worker Mr Rainey, from Salcombe was joined by engineer Lawrence Walters from Bristol in April, after rowing partner Sam Coombs, 25, from Somerset pulled out with a back injury.