Dozens of jobs 'at risk' at Alcoa Howmet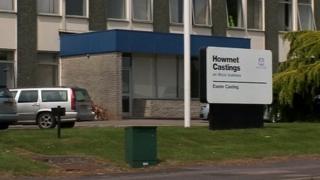 Seventy jobs are at risk at a major engineering company in Devon, BBC News has learnt.
The jobs at Alcoa Howmet, Exeter, one of the county's biggest private sector employers, are under threat following a "staffing review".
The firm is one of the world's leading producers of turbines for the industrial, gas and aerospace industries and employs 550 workers.
The union Unite fears many of the job losses will be compulsory.
Previous job cuts
A company source told BBC News: "Morale is pretty low.
"We've already lost a lot of staff over the past few years and we're wondering what's going to happen next."
The firm once employed 1,200 people at its base in Exeter but said the economic downturn had resulted in reduced staffing.
A spokesman from Unite said: "We hope to reduce the number of jobs being lost below 70 and ensure some are voluntary redundancies.
"But with this kind of number, many are going to be compulsory."
Analysis: Simon Hall, BBC South West Home Affairs Correspondent
Exeter has fared relatively well through the economic downturn, attracting some major investments, particularly in the growth area to the east of the city, with its new town of Cranbrook and science and business parks.
But many of the jobs being lost at the company are highly-skilled and well-paid, which will make the redundancies a significant blow for the local economy.
A four-week consultation period is under way, before the job losses are finalised.
In a statement, the company said: "Alcoa initiated a review of its staffing levels to adjust to current market conditions.
"We continue to have discussions with the unions and employee representatives to minimise the impact on our employees."