Orchid protection fence to be rebuilt to stop trampling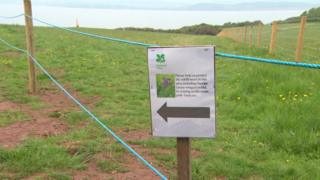 A fence is to be rebuilt on National Trust land after its removal led to rare orchids being trampled on.
The fence had kept coast path walkers off land where green-winged orchids grow at Orcombe Point in east Devon.
It was moved earlier this year, but people walked on the flowers before they bloomed, endangering them further.
After complaints the trust said it was erecting a new 200m-long fence along the previous line to protect the plants from further damage.
The orchid has been described as one of Britain's rarest wild flowers by botanists.
For live updates on this story as it develops, click here
Roger Smith, Devon recorder for the Botanical Society, said the site near Exmouth was one of the best for the rare flowers in Devon, if not the whole UK.
He warned: "As the plants are damaged there will be no seeds produced which means in the longer-term... the plants will gradually decline in number and possibly disappear altogether."
In an email seen by the BBC, the trust's local general manager David Ford said: "I have now had a chance to discuss a way forward with the wider property team and would like to confirm that a new fence will be installed on the original fence line to facilitate an annual hay cut and cattle grazing and avoid any accidental trampling by walkers."
He said staff were "aiming to carry out the work as soon as practical" at the site.
The trust erected small rope fences and put up new signs to stop people accessing the affected land after concerns were put to it by the BBC.