Devon and Cornwall crime commissioner can continue in role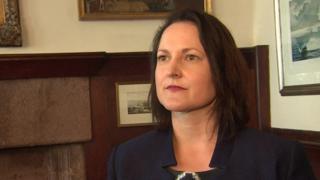 A newly-elected police and crime commissioner under investigation over election expenses can continue in her role, a panel has ruled.
Alison Hernandez faced allegations she failed to declare expenses as election agent in Torbay in the 2015 Election.
At an emergency meeting, the Devon and Cornwall Police and Crime Panel said she was still able to discharge the functions required of her role.
It would continue to scrutinise decisions made by Ms Hernandez.
The panel also told her to stop making political statements.
In its recommendations, the panel said: "The panel notes that whilst the commissioner is subject to allegations she has not been charged with a criminal offence."
It says that the functions of the police and crime commissioner are able to be discharged by Ms Hernandez.
Read more on this story as it develops throughout the day on our Local Live pages.
The meeting heard a series of hostile questions from the public and councillors into how Ms Hernandez could continue in office with investigations into undeclared election expenses ongoing.
Miss Hernandez told the panel she had done nothing wrong and there was no legal requirement for her to stand aside while the investigation was ongoing.
The Independent Police Complaints Commission will also review the allegations.
The referral to the watchdog was made by the chief executive of the office of the police and crime commissioner, Andrew White.
The watchdog will decide whether to investigate, or refer the matter to another police force.