Man smashed partner over head to 'liberate her'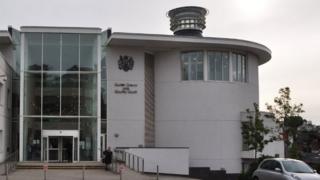 A 74-year-old man bludgeoned his partner with a lump hammer to "liberate her", a court heard.
Retired scientist, Edgar Fairhurst, initially struck Marjorie Elphick, 83, twice over the head with the foot-long implement on 30 December.
But when she tried to defend herself, Mr Fairhurst, from north Devon, struck her a further 10 times "to put her to sleep", he told Exeter Crown Court.
Mr Fairhurst has admitted manslaughter but denies murder.
The pensioner told police his account during three lengthy interviews after his arrest.
Mr Fairhurst told the court: "She would not die. I had to make sure she was dead. I had a feeling that I cannot stop now."
He said his relationship with Mrs Elphick was "not a Romeo and Juliet romance. We were two people with a love that had grown but had stayed on a plateau without decreasing or increasing."
Mr Fairhurst accused her of nagging him when she complained about the noise of him straightening his duvet on the night she was killed.
The accused denied being in a rage or angry with her but said: "The maniac in me was trying to achieve the most crazy solution to our relationship."
He said he had exaggerated when he told police that she had "goaded him for decades" and admitted he irritated her and they had "verbal spats" but never any violence saying "it is not in my character".
He told the officers that he suffered with clinical depression but had given up his anti-depressants three years ago.
The trial continues.