Michael Foot memorial defaced with swastikas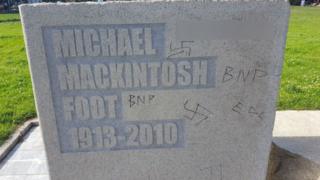 Vandals daubed extremist graffiti on a memorial to the late Labour leader Michael Foot in his home city.
The tribute, near his family home in Plymouth, was daubed with swastikas and references to the British National Party and English Defence League.
Mr Foot's godson Alan Lemin called it an "act of ignorance", while former Labour candidate Luke Pollard branded it "sickening".
The graffiti has now been removed with help from the council and volunteers.
Click here for live updates on this story
Mr Pollard, who stood as a Labour candidate in the 2015 General Election, said: "Michael Foot spent his entire career standing up against fascism and it is important for us all to stand up and make sure the actions of a few do not increase fear."
He said that a "toxic atmosphere" in the country after the Brexit referendum result had contributed to the vandalism, which happened on Sunday.
"A very small number of people think it is now acceptable to say vile, racist and homophobic things in public," he said.
He added the response from people in the city had been "incredible" and with help of volunteers and the "quick response" of the city council, the graffiti had been removed.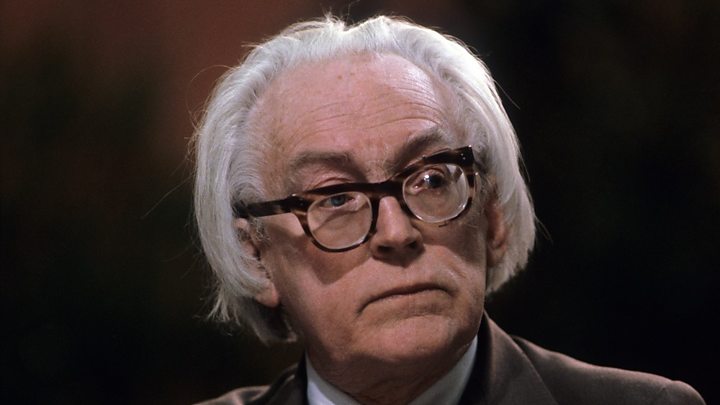 Michael Foot
MP from 1945 to 1992, including 10 years in the Plymouth Devonport constituency
Won the Blaenau Gwent seat in Wales in 1960
Held Blaenau Gwent for 32 years before standing down in 1992
Employment secretary in the 1974-76 Labour government under Harold Wilson
Leader of Labour Party 1980 to 1983
Died March 2010 aged 96
Det Con Rob Souness, from the Plymouth diversity team of Devon and Cornwall Police, said: "This is a disgusting act of vandalism and we are fully aware of how shocking this is to the community, and of course to Mr Foot's family and friends.
"Thankfully the graffiti has been removed but we are still investigating this matter."
David Downie, Plymouth City Council's cabinet member for safer and stronger communities, said: "I and the council completely condemn this appalling act of vandalism on a memorial to one of Plymouth's most famous sons.
"Plymouth is a welcoming city, a friendly city.
"This minute minority is spoiling it for everyone and it's a disgrace."
Tudor Evans, leader of the Labour group on Plymouth City Council, accused the perpetrators of being "nazis" in a tweet.
Former Labour director of communications Alastair Campbell said on Twitter: "This is disgusting beyond belief. Michael was a great man and a good friend. This strikes at everything he stood for."
Conservative Plymouth Moor View MP Johnny Mercer tweeted: "Tragic. Unacceptable. Michael Foot was a proud son of Plymouth. This is not us, not Plymouth."
Former Labour Devonport MP Alison Seabeck tweeted: "Appalled and disgusted that #michaelfoot memorial in Plymouth has been defaced."