Seaton Down Hoard to go on show in Exeter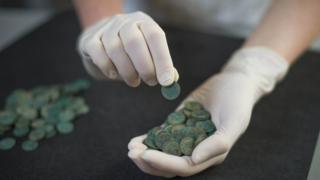 Coins from one of the UK's largest Roman hoards are to go on display in Exeter later this week.
The Royal Albert Memorial Museum in the city bought the Seaton Down Hoard, discovered in 2013, for £50,000.
The coins were found in a field in east Devon by builder Laurence Egerton, who was using a metal detector.
Work has started to restore the collection of almost 23,000 coins, dating back to about AD350, so only some of them will be on show.
It is believed the hoard was buried by a private individual or soldier for safe-keeping.
The museum was able to attract donations from individuals and businesses to raise the money to buy the coins.
Councillor Rachel Sutton, deputy leader of Exeter City Council, said: "Then, as now, Exeter was the major city for the area and so it is fitting that the hoard should find its permanent home in the museum."
The first coins will be on show from Tuesday with the full hoard expected to be viewable in 2017.