Stained glass helicopter marks Artillery anniversary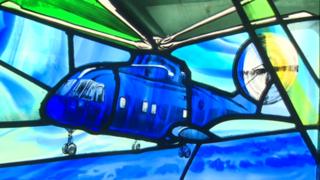 A military scene has been included as part of a stained glass window at a church in Plymouth.
The "unique window" has been installed in the church at the Royal Citadel to mark the 300th anniversary of the Royal Artillery.
A Merlin helicopter, soldiers and amphibious vehicles all feature in the scene.
The windows have been installed at The Royal Chapel of St Katherine Upon The Hoe within the Royal Citadel.
Karl Freeman MBE, the Vicar for 29 Commando Regiment, said: "It is quite unusual to see helicopters in church glass. Basically, there's an integration of faith into regimental life, which is my job."
Lieutenant Colonel Jon Cresswell, who is Commanding Officer of the regiment, said "We wanted to leave our mark here, and I think we've very much done that."