Nazi salute councillor Jonny Morris gets 'diversity training'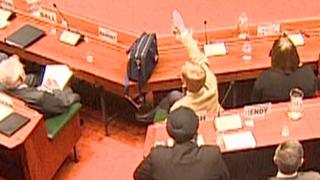 A councillor who performed a Nazi salute during a meeting has been ordered to attend a diversity training course.
Labour member Jonny Morris made the gesture in protest after Conservative members voted to end a debate on raising Plymouth City Council tax.
He has also been suspended for three months.
Mr Morris confirmed the penalties which were agreed by the Labour group but declined to comment further.
The gesture - which was caught on camera - was met with a chorus of derision from fellow attendees at the meeting.
Opposition politicians branded Mr Morris an "utter disgrace" and demanded his resignation.
He apologised, and said he performed the salute because he was "very angry at the closing down of debate".
Plymouth Moor View Conservative MP Johnny Mercer said: "If he had a shred of integrity or any pride in his office he would have resigned.
"I think not to lose your job if you do a Nazi salute in a council chamber is extraordinary but it speaks of the standards the Labour group holds themselves to."
Labour leader Tudor Evans, who has previously condemned Mr Morris' actions, declined to comment on the sanctions against him.