'Lives at risk' from probation service failings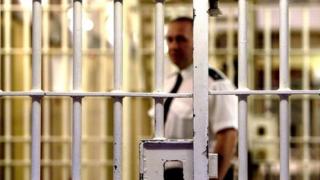 Probation officers fear lives are at risk because offenders are not being supervised properly, a BBC investigation has learnt.
Private firm Working Links won the contract for Wales and the south west of England in 2014.
Whistleblowers said job cuts and reduced face-to-face meetings mean some people are not being seen for months.
The company says "public protection is our top priority and it is our job to help move people away from crime".
More on the 'lives at risk' from probation service failings, and other stories
Since taking over the running of service in February 2015 the firm has proposed to cut about 600 jobs - 40% of the workforce.
One anonymous probation officer said her caseload has doubled since privatisation.
She said: "I'm aware of colleagues that have resorted to sitting in their car just so they can weep, pick themselves up and get back in the office and get on with their job.
"Sometimes it's very difficult to make room to see everybody that you need to be seeing. There have been delays where people haven't been seen for months at a time."
Working Links is introducing a new practice which involves offenders being more frequently supervised over the phone.
Another anonymous probation officer said: "I actually have no idea of who I'm talking to. All you hear is a voice you have no idea where somebody is or what they're doing."
Helen Coley worked for the service for 27 years but quit last year because she was unhappy with the changes being brought in.
She said: "The probation service, what's left of it, is just waiting for somebody to murdered, raped or very seriously wounded. It could happen any day and could happen anywhere."
The probation union Napo's general secretary Ian Lawrence called for the operational model to be "seriously reviewed".
He said if changes are not made soon "there'll be more chaos, there'll be more confusion and there'll be more reoffending".
Working Links said: "We are committed to reducing reoffending and protecting the communities in which we work."
The Ministry of Justice said: "We hold providers rigorously to account for their performance. We are carrying out a comprehensive review of the probation system to make sure it is preventing future victims."
The findings are due to be published in April.
Watch Inside Out South West's investigation on BBC One on Monday 20 March at 19:30 BST and on the iPlayer for 30 days thereafter.