Only care home on Isles of Scilly, Park House, to close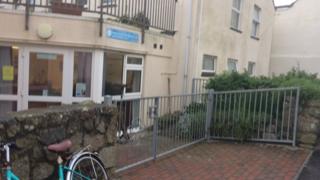 The only care home on the Isles of Scilly, Park House, is to close in two months time.
The Council of the Isles Scilly, which runs the service, said the decision was due to "significant recruitment issues" making the home "unsafe".
Clinton Perry said he fears his 91-year-old father may be "moved to the mainland", after living on the island his whole life.
The council said it will continue to provide services to people at home.
Currently Park House is scheduled to be closed by the beginning of June.
Mr Perry said he was told residents would be assessed on a individual basis before a "decision" was made about their future but had been left "numb" after learning it would shut.
He said prior to the announcement to close Park House, the council had expressed an interest in "moving" the facility to the local hospital.
Councillor Ted Molson said he was "flabbergasted" by the closure.
He added it was a "very sad day for Scilly" and expressed concern the move could "split families up".