Plymouth Ross Noble fan in jelly bean choking drama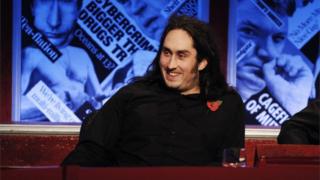 Comedian Ross Noble had to stop a show while a man choking on a jelly bean was rescued by a member of the audience.
Noble halted his gig at Plymouth's Theatre Royal on Saturday when he saw that 18-year-old Oliver Jackson was in trouble.
The comic pointed to Mr Jackson and a member of the audience performed the Heimlich manoeuvre to get rid of the sweet.
Mr Jackson said he had since "given up jelly beans".
More on this story, plus more Devon and Cornwall news
"They don't seem to agree with me," he said.
Horticultural apprentice Mr Jackson, from Plymouth, had been enjoying the sweets without mishap when one lodged in his throat.
"I tried acting calm, I did not want to start coughing," said Mr Jackson, who was sitting four rows from the front.
"My mate started patting me on the back and then Ross saw the commotion and stopped the show. The next thing, everyone was rushing in with first aid; it was surreal."
The teenager added: "Ross pointed me out and within seconds [the sweet] was gone.
"I'm just glad he could see that it was serious - and he made a few jokes about it later which lightened the mood."
Noble was not immediately available for comment.