Group scales Plymouth tallest building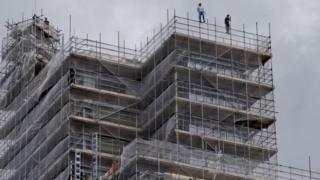 A group of young people have scaled one of the tallest buildings in the South West, which is currently under construction.
The 22-storey, 78m-high (256ft), Beckley Point building in Plymouth, is due to be occupied by university students from September.
It is unclear whether the group was "rooftopping" - climbing to the top of structures to take photographs.
Devon and Cornwall Police said it was aware of the incident.
More on the group who scaled Plymouth's tallest building, and other Devon news
A planning application for a high-rise student building on the site was first sought back in 2003. The current building will have 500 flats.
A Kier construction firm spokesperson said: "As our site at Beckley Point is closed today, our security team was patrolling with CCTV and immediately sent a team to site when they became aware of intruders.
"The site was found to be clear and secure and we are continuing to investigate."