Arrests after McDonald's drive-through stabbing in Devon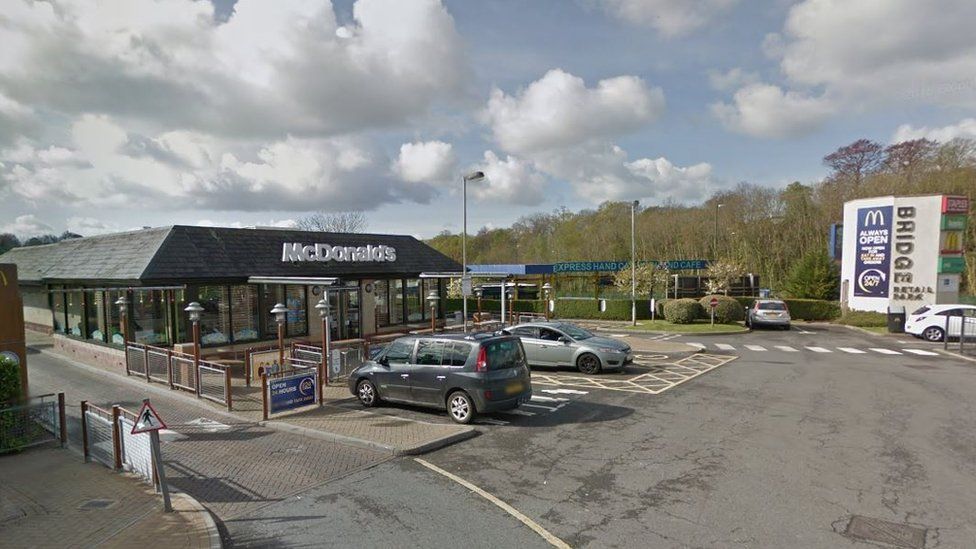 Three men have been arrested after a stabbing at a McDonald's drive-through and further violence.
A man was stabbed in the back at the restaurant in Bridge Retail Park, Torquay, in the early hours of Monday.
Police later Tasered a man who confronted them with a meat cleaver. They then went to an address where a man had been struck with a hammer.
Those arrested are aged 19, 20 and 22. The stabbed man was released from hospital after treatment.
Devon and Cornwall Police said they were called to the McDonald's soon after 01:30 BST.
A car used by a number of men was traced to Newton Abbot, where police arrested a 20-year-old for failing to stop for police, and for drug possession.
Police then went to another address on the same street, where officers were met at the door by a 22-year-old brandishing a meat cleaver.
He was Tasered and arrested at 05:40.
At 16:50, police went to Condor Drive, Torquay, the scene of the reported hammer attack.
A 19-year-old man was arrested on suspicion of that assault and in connection with the earlier stabbing at McDonalds.
A McDonald's spokesman said: "We can confirm an incident occurred at our Torquay restaurant in the early hours of yesterday morning.
"The restaurant was closed from around 01:00 allowing the police to carry out necessary inquiries and has since reopened."
Related Internet Links
The BBC is not responsible for the content of external sites.