Seagull snaps up false teeth from bench in Torquay Harbour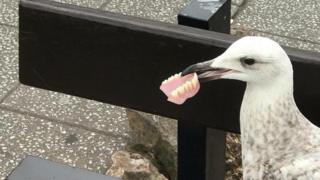 A seagull may have bitten off more than he could chew when he stole some false teeth from a seaside bench in Devon.
The feathered felon, more commonly known for stealing chips, snapped up the abandoned gnashers in Torquay.
A picture of the garrulous-gull was shared widely on social media.
A post on the Spotted Newton Abbot Facebook page said: "Unfortunately anyone missing them will need to contact the seagull as he flew away with them!"