Tom Daley and Dustin Lance Black marry at Devon hotel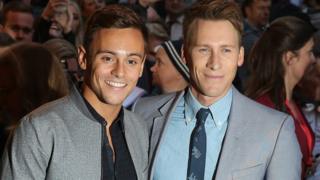 British Olympic diver Tom Daley has married his partner, US film director, Dustin Lance Black.
The couple got married in a service at a luxury hotel on Dartmoor National Park in Devon, a source confirmed to the BBC.
The Bovey Castle Hotel venue is about 30 miles from Daley's home city of Plymouth.
A guest at the wedding said media reports the diver re-enacted a scene from Romeo and Juliet were untrue.
"I'm not sure which wedding they were at, but it wasn't the one I attended," he said.
More on the wedding, and other Devon news
Daley, 22, won bronze medals at the Olympic Games in London and Rio de Janeiro.
He revealed in a YouTube video in 2013 he had a boyfriend, saying his "whole world changed" when he fell in love with a man.
"Come spring this year my life changed massively when I met someone and they make me feel so happy, so safe, and everything just feels great and, well, that someone is a guy," he said.
The high-profile couple announced they were engaged in 2015.
Black, 42, is a US film director, writer and producer.
He won the best original screenplay Oscar for the 2008 film Milk, which was based on the life of gay rights activist and politician, Harvey Milk.
Get news from the BBC in your inbox, each weekday morning