Tom Daley and Dustin Lance Black share wedding photos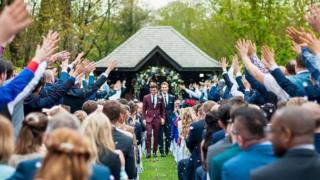 British Olympic diver Tom Daley has shared a picture of his wedding to US film director Dustin Lance Black.
He said they shared the day "with 120 of our closest friends and family, from Texarkana to Plymouth" at Bovey Castle Hotel on Dartmoor, Devon.
The diver's new husband also shared a picture of the nuptials, asking "So... what did you do this weekend?"
Daley, 22, married the scriptwriter and producer 30 miles from his home city of Plymouth.
'Just so normal'
In the social media post, Daley said: "Thank you to everyone who made this weekend the most special weekend of our lives!"
Fellow diver Brooke Graddon said the wedding was "full of love and happiness".
"He's been through so many hard times in his life it's so nice that he's had his happy ending," she said.
"The wedding was brilliant - it was so much fun. It's so nice seeing him happy."
More on Tom Daley's wedding, and other Devon and Cornwall news
Graddon, who has been one of Daley's best friends since he started diving aged seven, said the Olympic star had been "so chilled" about the ceremony.
"He said he didn't start sorting out his wedding until January/February time, things like he just said he was going to make his own cake.
"I didn't have any, so who knows whether I'd have food poisoning right now!
"Obviously, the location was incredible but everything else was really relaxed, it was just so normal."
Daley, who won bronze medals at the Olympic Games in London and Rio de Janeiro, revealed in a YouTube video in 2013 he had a boyfriend.
He said his "whole world changed" when he fell in love with a man who had made him feel "so happy, so safe".
The pair announced their engagement in 2015.
Black, 42, won the best original screenplay Oscar for the 2008 film Milk, which was based on the life of gay rights activist and politician Harvey Milk.