Exeter murder trial: Kostadin Kostov denies killing ex-partner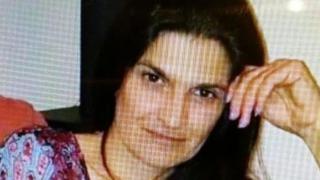 A cleaner who denies murdering his ex-girlfriend said he was not jealous when she left him for another man.
Kostadin Kostov told Exeter Crown Court he was not angry when Gergana Prodanova started a relationship with fellow Bulgarian Tihomir Todorov.
Mr Kostov is accused of dragging his ex-partner's body through Exeter city centre in a suitcase in August 2016.
The 43-year-old, of Mount Pleasant Road, Exeter, has said he has no idea what happened to Ms Prodanova.
Ms Prodanova left Mr Kostov and their three children in Bulgaria when she moved to Exeter in December 2015.
Mr Kostov followed three months later, by which time she was working at the Great Western Hotel and was in a relationship with Mr Todorov.
He said he is not the man seen on CCTV trailing a heavy-wheeled suitcase towards the railway line on the morning of 7 August and returning a few minutes later without it.
He told the court: "I felt, with Gergana, it was over and done with. I accepted her relationship with Mr Todorov."
The trial continues.